Get Realistic 3D Jewelry Rendering Services to Grow your Jewelry business.
We Bring Designs in Life with Realistic Jewelry Rendering Services
At Atellier we are passionate to create stunning 3D Jewelry rendering services that affect your Jewelry business positively. From our inception, we have served many National and International jewelry brands, designers, and manufacturers. Our skilled team of artists has expertise in creating realistic and lifelike Jewelry renderings of all types. We create the models, render them, and animated them as per clients' requirements. We are the leading 3D Jewelry Rendering service provider studio in India and also helped brands with 3D Jewelry rendering services for USA and UK. Realistic Jewelry rendering services are in demand. Online Jewelry businesses are investing in photorealistic 3D Jewelry rendering
Benefits of High-Quality 3D Jewelry Rendering Services
At Atellier, we understand the importance of high-quality and realistic 3d Jewelry rendering Images. There are Multiple reasons why you should choose High-quality 3D Jewelry rendering services.
Buying Jewelry is an emotional as well as a luxury affair. Poor-quality images can not justify the product price and its design. At Atellier we create stunning Jewelry render Images and videos so buyers have a good impression of Jewelry and its design. 3D Jewelry rendering services help designers and businesses to capture minute details. With Jewelry rendering, we can create custom image backgrounds that give your product a stunning look.
Our high-quality images will make your product stand out in the crowd. Good Images on your social media platform or website grabs attention quickly. According to the latest market research, 70% of buyers make buying decisions on they see a good quality product Image. Hence at atellier we offer fine 3D Jewelry rendering services that help you attract and engage more buyers leading to more sales.
Great quality focus on minute detailing of your product. 3D Jewelry Render Images that you use on your website or Social Media Platform knowingly or unknowingly create your brand Image. Realistic 3D Jewelry Renders, detailed 3D jewelry Models, and stunning videos help business to improve their brand Image. Whereas low-quality images bring more damage to your brand.
Our high-quality images and video create a positive image of your company. Buyers trust quality and realism ultimately resulting in your authority and credibility in a particular business niche. Your brand gets more credibility when jewelry images and actual Jewelry match. At Atellier, we not only create High Quality, realistic, and lifelike images of your product we unfold the story behind the Jewelry, Its brand, and its people. We help to create a holistic approach for your Jewelry business.
Where you can Use 3D Jewelry Renders?
Amazing 3D Jewelry Images look stunning and attract more Traffic to your website or landing pages. It also helps to keep your visitors on your page for a longer time. Helping you to increase the engagement rate for your website.
It's very important for brands to have a presence on various social media platforms. Our high-quality, realistic, and lifelike 3D jewelry rendering services make your social media content look impressive. And communicate with viewers effectively.
3D Jewelry Modeling and Rendering gives you creative freedom so you can display photo-realistic 3D Jewelry Images in catalogs and brochures. With the latest technology Jewelry rendering services can create customized 3D images for brochures and magazines.
At Atellier we provide High-quality 3D Jewelry Images so you use them on Billboards. On-body Jewelry images are the first choice for billboards. These HD Images look very stunning in big portraits.
E-commerce platforms like eBay, Amazon, etc need high-quality Product images and videos to be displayed. Our Jewelry rendering services provide you with Hero images at their best.
On Body 3D Jewelry Rendering Services
On-body Jewelry Images are in trend. Most customers wish to see how jewelry design will look on the body. And with our on-body Jewelry rendering services, we give an exact solution to this problem. We create hyper-realistic 3D Jewelry renders by composing two different images so clients can visualize the product in its real environment. on-body Jewelry rendering services help buyers to understand the real proportion of jewelry design.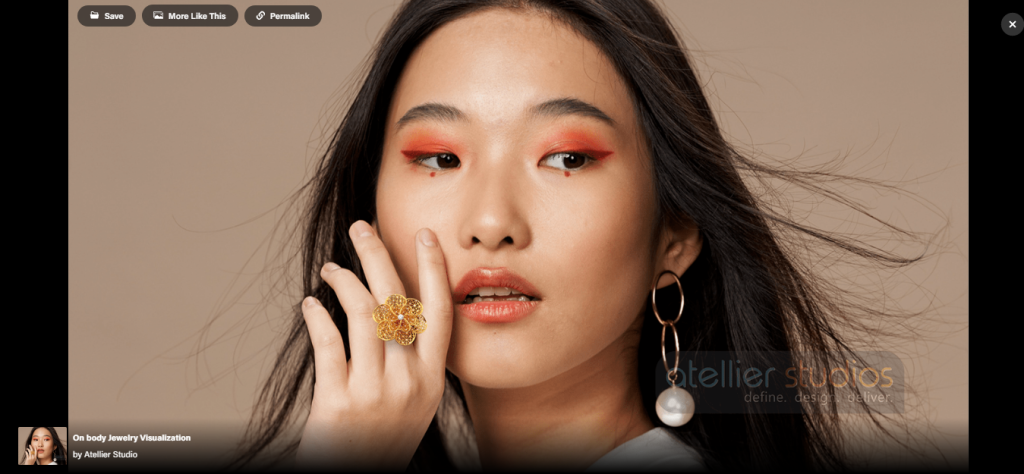 How to Hire the Best Jewelry Rendering Services in India with Atellier Studio
It's very easy to hire the Best Jewelry rendering services from any part of the world. As a global 3D Jewelry Rendering service provider, we believe that every company, designer, and brand is unique. Their goals, Brand, Position, and clients are different Hence, we customize our services as per your business requirements.
We have one-to-one sessions to understand your business module and requirements in detail. Once requirements are finalized you can share CAD drawings or photos of the product and relax.
Our team will coordinate and communicate with you and deliver high-quality 3D Jewelry renders, 360-degree Jewelry videos, On-body Jewelry Images, or custom 3D Jewelry Videos.
Why choose Atellier as your 3D Jewelry Visualization Studio
We have been serving global clients for more than a decade. With each project, we learn something new and add it to our experience bucket which helps us to deliver the best output.
With experience and expertise, we have a fully equipped high-end studio. So our delivery is accurate and timely.
Dedicated communication Team
Once the project starts we share your name and contact details of the SPOC with you. And he/she keeps updating you on the project's Progress.
Our team members from modeling to the Jewelry Renderings department have the expertise and hold in their respective fields. Hence we can proudly proclaim to be the best 3D Jewelry rendering services provider globally.
Introducing a new product to market or demonstrating your product to new or existing clients, animated product videos can be best option. Animation explains complex product easily.
Just share your product designs or photos with us to have photo realistic product visualization.
Exploded Product View
Product Demo Videos
Product Intro Videos
3D Product Visualization
Jewellery is the most popular thing in the entire world. The present-day number of designers bring out a unique form of fashion which are changing trends of our society.
Our 3D Jewellery Animation video explains your product in a simple and attractive Way. Introduce your design through 3D animation.
Jewellery Animation video, Diamond Jewellery Animation, Jewellery Design Video, 3D jewellery visualization 
Explainer videos are small 1 to 3 min videos, explaining the concept, services or just telling a simple story.  Explainer videos can be in 2D, 3D or whiteboard animation format.
Explainer videos are a good tool for video content marketing and used by many international brands.
2D Explainer Video
3D Explainer Video
Teaser Video
Whiteboard videos