3D Jewelry
Rendering Services
What is Jewelry Rendering?
Jewelry rendering services help businesses create digital representations of jewelry items using computer-generated imagery (CGI). It involves creating detailed 3D models of Jewelry design with minute detailing like gemstone cuts, metal textures, and design nuances. 3D Jewelry model is then followed by applying realistic materials and textures to replicate the appearance of metals, gemstones, and diamonds. At Atellier we customize a 3D Lighting setup for each product so it can enhance reflections and highlights, showcasing the brilliance of the jewelry.
The 3D Jewelry rendering process allows for easy customization, experimentation with design elements, and iterative prototyping before physical production. Jewelry renderings are widely used in marketing materials, online platforms, and design visualization, providing a visually stunning and realistic portrayal of each piece's craftsmanship, aiding both designers and customers in the exploration and appreciation of fine jewelry.
At Atellier studio we have been creating stunning 3D jewelry renders, turntable videos, on-body Jewelry visualization, and customized Jewelry videos for National and International clients. We create realistic 3D renders using combinations of 3D Visualization software. We have experienced 3D Modelling and rendering artists who can add a competitive edge to your Jewelry Images and Videos resulting in creating a positive brand image for your business.

We Bring Designs in Life with Realistic Jewelry Rendering Services
At Atellier, we're dedicated to enhancing your jewelry business with our top-notch 3D rendering services and 3D product Rendering Services. As a leading 3D Jewelry Rendering Company, we bring innovation and excellence to showcase the beauty of your designs. From our inception, we have served many National and International jewelry brands, designers, and manufacturers. Our skilled team of artists has expertise in creating realistic and lifelike Jewelry renderings of all types. We create the jewelry CAD designing models, render them, and animated them as per clients' requirements. We are the leading 3D Jewelry Rendering service provider studio in India and also helped brands with 3D Jewelry rendering services for USA and UK. Realistic Jewelry rendering services are in demand. Online Jewelry businesses are investing in photorealistic 3D Jewelry rendering!
Creating 3D Jewelry Images
Benefits of High-Quality
3D Jewelry Rendering Services
Buying Jewelry is an emotional as well as a luxury affair. Poor-quality images can not justify the product price and its design. At Atellier, we create striking Jewellery rendering designs to leave a lasting impression on buyers with the beauty and intricacy of each piece. 3D Jewelry rendering services help designers and businesses to capture minute details. With Jewelry rendering, we can create custom image backgrounds that give your product a stunning look.
Our high-quality images will make your product stand out in the crowd. Good Images on your social media platform or website grabs attention quickly. According to the latest market research, 70% of buyers make buying decisions on they see a good quality product Image. Hence at Atellier we offer fine 3D Jewelry rendering services, 3D Package Rendering Services, and 3D Product Animation Services that help you attract and engage more buyers leading to more sales.
Great quality focus on minute detailing of your product. 3D Jewelry Render Images that you use on your website or Social Media Platform knowingly or unknowingly create your brand Image. Realistic 3D Jewelry Renders, detailed 3D jewelry Models, and stunning videos help businesses improve their brand Image. Whereas low-quality images bring more damage to your brand.
Our high-quality images and video create a positive image of your company. Buyers trust quality and realism ultimately resulting in your authority and credibility in a particular business niche. Your brand gets more credibility when jewelry images and actual Jewelry match. At Atellier, we not only create High Quality, realistic, and lifelike images of your product we unfold the story behind the Jewelry, Its brand, and its people. We help to create a holistic approach for your Jewelry business.
3D Jewelry Rendering Videos
Where you can Use
3D Jewelry Renders?
Amazing 3D Jewelry Images look stunning and attract more Traffic to your website or landing pages. It also helps to keep your visitors on your page for a longer time. Helping you to increase the engagement rate for your website.
Having a strong presence across multiple social media platforms is crucial for brands. Our exceptional 3D jewelry rendering services, including Jewelry CAD design, elevate the quality of your content, making it visually stunning and effectively engaging with viewers.
Unlock creative freedom with 3D Jewelry Modeling and Rendering, showcasing photo-realistic images in catalogs and brochures. Utilizing cutting-edge technology, our 3D Jewellery Modeling services can tailor custom 3D images for your brochures and magazines.
At Atellier we provide High-quality 3D Jewelry Images so you use them on Billboards. On-body Jewelry images are the first choice for billboards. These HD Images look very stunning in big portraits.
E-commerce platforms like eBay, Amazon, etc need high-quality Product images and videos to be displayed. Our Jewelry rendering services provide you with Hero images at their best.
On Body 3D Jewelry Rendering Services
On-body Jewelry Images are in trend. Most customers wish to see how jewelry design will look on the body. And with our on-body Jewelry rendering services, we give an exact solution to this problem. We create hyper-realistic 3D Jewelry renders by composing two different images so clients can visualize the product in its real environment. on-body Jewelry rendering services help buyers to understand the real proportion of jewelry design.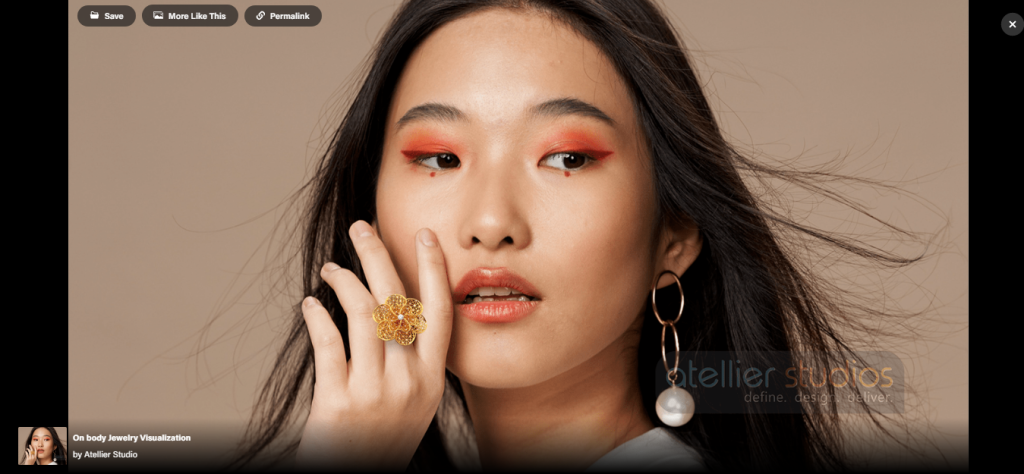 How to Hire the Best Jewelry Rendering Services in India with Atellier Studio
It's very easy to hire the Best Jewelry rendering services from any part of the world. As a global 3D Jewelry Rendering company and service provider, we believe that every company, designer, and brand is unique. Their goals, Brand, Position, and clients are different Hence, we customize our services as per your business requirements.
We offer personalized one-on-one sessions to understand your business needs, particularly in Jewelry CAD Designing. Once requirements are finalized, simply share your CAD drawings or product photos, and leave the rest to us.
Our team will coordinate and communicate with you and deliver high-quality 3D Jewelry renders, 360-degree Jewelry videos, On-body Jewelry Images, or custom 3D Jewelry Videos.
Why choose Atellier as your 3D Jewelry Visualization Studio
We have been serving global clients for more than a decade. With each project, we learn something new and add it to our experience bucket which helps us to deliver the best output.
Leveraging extensive experience and specialized expertise, our state-of-the-art high-end studio stands as a testament to our commitment to precision and efficiency. This cutting-edge facility empowers us to consistently deliver results with unparalleled accuracy and timeliness, reinforcing our reputation for excellence in every aspect of our service.
Dedicated communication Team
Once the project starts we share your name and contact details of the SPOC with you. And he/she keeps updating you on the project's Progress.
Our team members from modeling to the Jewelry Renderings department have the expertise and hold in their respective fields. Hence we can proudly proclaim to be the best 3D Jewelry rendering services provider globally.
Frequently Asked Questions
Can 3D Jewelry Rendering Accurately Aepresent the Intricate Details of Jewelry Designs?
Yes, 3D jewelry rendering can accurately represent the intricate details of jewelry designs. With advancements in technology and rendering software, designers can create highly detailed and realistic digital models that showcase the fine details of jewelry pieces.
Sophisticated rendering software offers a range of tools and techniques to simulate materials, textures, and lighting conditions, resulting in accurate representations of intricate jewelry designs. Designers can meticulously craft the digital model, incorporating elements such as engravings, gemstone settings, filigree work, and other intricate features with precision.

Overall, 3D jewelry rendering can provide a highly accurate portrayal of the design. Collaborations between designers and skilled artisans can bridge any gaps between the digital rendering and the final physical piece, ensuring that the intricate details are faithfully translated into the finished jewelry.
How Long Does it take to Create a High-Quality 3D Jewelry Rendering?
The time required to create a high-quality 3D jewelry rendering can vary depending on several factors, including the complexity of the design, the level of detail required.
High-quality 3D jewelry rendering needs to undergo multiple processes like modeling, texturing, lighting, rendering, and composition. Each step requires different amounts of time depending on the complexity of the product. We study product and requirments and then provide time line to the client.
Can 3D Jewelry Rendering be Used to Visualize Different Materials & Gemstone Options?
Yes, 3D jewelry rendering is an excellent tool for visualizing different materials and gemstone options. With the use of advanced rendering software, you can simulate various materials, including different metals such as gold, silver, or platinum, as well as different gemstones like diamonds, emeralds, sapphires, and more.
The rendering software provides a wide range of materials and textures that can be applied to the digital model, allowing customers to accurately visualize the appearance and characteristics of different materials. This includes the reflection, refraction, and transparency properties of gemstones, as well as the specific luster, color, and texture of various metals.
Are There any Specific File Formats Required for 3D Jewelry Rendering as Input?
Yes, there are specific file formats commonly used for 3D jewelry rendering. These formats are designed to store and exchange 3D models accurately, allowing for compatibility between different software applications and rendering engines. Some of the commonly used file formats for 3D jewelry rendering include STL, OBJ, FBX etc. If nothing is available, you can share product photos from various angles clicked by your mobile phone.
The rendering software provides a wide range of materials and textures that can be applied to the digital model, allowing customers to accurately visualize the appearance and characteristics of different materials. This includes the reflection, refraction, and transparency properties of gemstones, as well as the specific luster, color, and texture of various metals.
What is The Cost of High-Quality 3D Jewelry Rendering Services?
The cost of high-quality 3D jewelry rendering services can vary depending on several factors, including the complexity of the design, the level of detail required, and the specific requirements of the project. However, charges can vary from a few hundred dollars to a thousand dollars.
How Does the 3D Jewelry Rendering Process Work?
The process typically involves the following steps:
Information : The client provides design specifications, reference images, and any other relevant information.

Modeling: A 3D model of the jewelry piece is created using specialized software.

Texturing and materials: The model is assigned appropriate textures and materials to simulate the appearance of metals, gemstones, and other components.

Lighting and rendering: Virtual lights are placed, and the scene is rendered to produce realistic images or animations.

Iteration and feedback: The client reviews the initial renders and provides feedback for revisions if necessary.

Final output: The approved renders are delivered to the client in the desired format.
What Formats Are Commonly Used for Delivering 3D Jewelry Renders?
The most common formats for delivering 3D jewelry renders include high-resolution images (JPEG, PNG, TIFF) and animations (MP4, GIF). The files can be provided via email, cloud storage services, or file-sharing platforms.
Is There a Limit to the Number of Revisions or Modifications Allowed?
We basically include two free revisions. More than that are chargeable. Charges depend on complexity of changes.
3D Jewelry Rendering Case Studies
Belden Inc.'s American branch reached out to Atellier Studio to fulfill their need for 3D product rendering services, an essential component of Belden's ongoing system upgrades for the development of their Product Information Management (PIM) system Read More…